B9Talker - A simple Robot wave file player for the PC - By MikeJ

Click on the photo to download a zip file containing the software and a few sample wave files.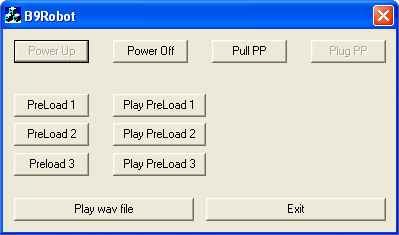 Setup: Unzip everything into a single directory. Run the B9Robot.exe program.
System Requirements: A PC (sorry Mac users!) with a stereo soundcard and speakers.
Functions:
Power Up and Power Off will activate/deactivate the background sounds.
Pull and Plug PP will simulate the Robot's power pack being pulled.
Preload 1-3 allows you to select up to three wave files for "quick play".
Pressing Play Preload1-3 will play the preselected files.
Play wav file allows you to open and play any wav file on your computer.
Exit terminates the program.
This software is offered "as is" and is free. Remember, you get what you pay for! :-)