Steve Neal
Email Steve.B9@bigpond.com
Vendor since: October 1, 2019

PLEASE READ - Notice to my fellow Builders
Shipping:
Shipping and Handling is extra and will be added to each order.
Postage with Tracking is $15.00 USD.
I am based in Australia, the delivery times on average is roughly 4 weeks to International locations.
Payment:
Always in stock!
Payment up front, then assembled if required and posted.
As I am based in Australia but prices quoted are in USD
Please email me with your order and I'll let you know the total cost.
Preferred payment method is through Paypal
Disclaimer:
Please understand that all sales are final.
In purchasing any of the items below, you are agreeing that I (Steve Neal) am in no way held responsible for personal harm or any damages due to the use or misuse of purchased merchandise.
By placing an order, you are agreeing to all of the above.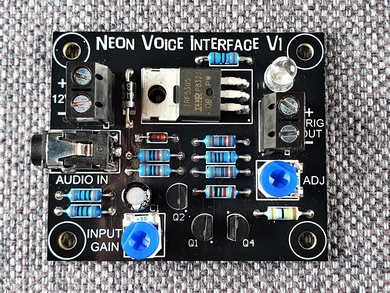 NEON-VOICE INTERFACE V1

Get your B9 Neon flashing consistently with every spoken word
Price:
Fully Assembled: $45
Assemble Your Self Kit: $30

This simple to install device is designed to work in conjunction with the Tech22 Neon Transformer to get your B9's Neon working better than ever. It is cheaper, easier to wire and works much better than the Tech22 Music Interface previously sold with the Tech22 Neon Transformer to trigger the neon. All my board requires is a 12 volt DC supply, connect the orange trigger wire from the Tech22 Neon transformer to the positive output terminal of the board and finally the robot voice audio input which simply plugs into the onboard audio jack and your done.
Please Note - This new Neon-Voice Interface Board V1 REPLACES only the Tech22 Music interface. You will still need the Tech22 Neon Transformer. For those of you who are yet to purchase and or set up the neon for your robot, please read the awesome article regarding the neon setup and control options on Craig Reinbrecht Vendor Page on the B9 Builders Club website. There a wealth of information and is essential reading. It also has links to everything you will need for your neon setup.
You can find Craig's article by Clicking Here
You can find a link to buying the Tech22 Transformer by Clicking Here
Click on the Youtube link below to see how nice this board works!


Wiring Diagrams and Hookup Example Video
Think wiring this board into your project is to advanced for you? Think Again! Look Below or CLICK HERE for easy to follow and understand diagrams and a video on how to easily install this board and make your neon blink to sound.
Ordering
The Neon-Voice Interface Board V1 can be ordered as a fully assembled completed board ready to plug in and enjoy. It comes with detailed easy to follow instructions complete with clear diagrams to make connecting to your robot a breeze.
For the more adventitious, the board can be supplied as a kit you build yourself. It comes complete with the Neon Voice Interface V1 blank board, all the components required, easy to follow assembly and connection instructions and of course, diagrams. Each component will be labeled with a designator number that corresponds to the footprint labels on the board.
Faux Neon
For those of you that prefer to go with a Faux neon setup, the Neon Voice Interface board will also work to trigger a Faux Neon, as long as whatever you are using to light the Faux Neon is designed to run off 12 volts DC, then it will work. The trigger terminals on the board are both positive and negative so simply connect the faux neon light to these terminals and it will flash in sync with the Robot voice.

NEON-VOICE INTERFACE DIAGRAMS
and Hookup Example Video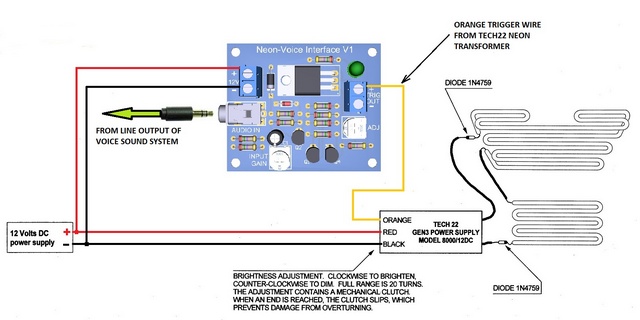 Power & Trigger Connections
Click Picture for larger view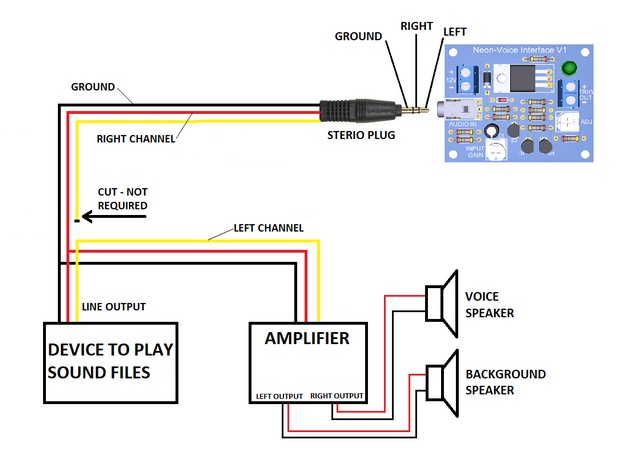 Common Amp Connection
Click Picture for larger view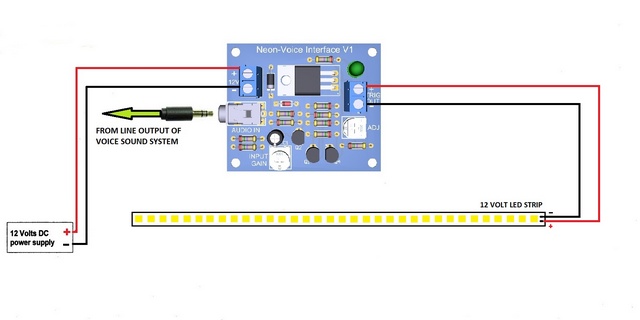 Faux Neon Connection
Click Picture for larger view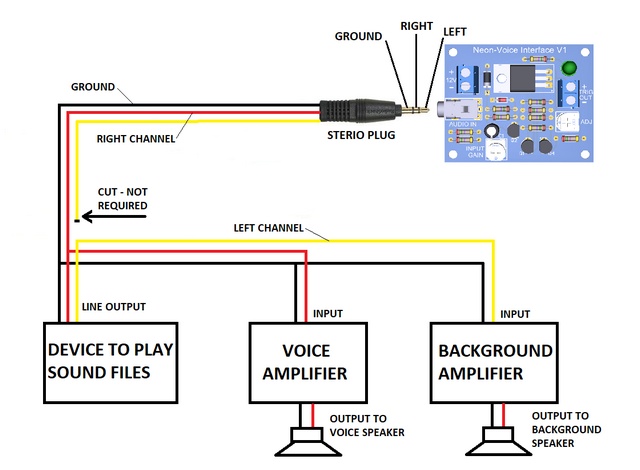 Multiple Amps Connections
Click Picture for larger view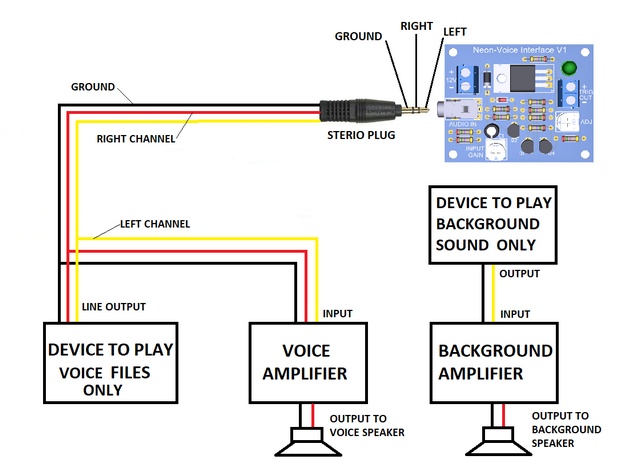 Multiple Players Connections
Click Picture for larger view

Hookup Example Video
Below is an Hookup Example videos that will help you assemble, wire and mount your NEON-VOICE INTERFACE into your robot
Hookup Example Video by David Schulpius