Gary Olley - Australia
Email gary_olley@bigpond.com
Web Site: http://www.freewebstore.org/ReplicaRobotParts/storepage51183.aspx
Vendor since: October 19th, 2007
Prices do not include shipping & handling costs.
Cast in medium cure clear polyurethane resin. This set of eye lens's will compliment any robot's Brain. They look great back lit and have a large base to aid in installation. Each set comes with a set of laminated Templates to aid in cutting the eye aperture.
Price: $75

Each rod is hand made to Craig R's accurate plan. Solid brass construction. Each rod is prewired with 26" of wire wrap wire wired to suit Tom Wisnionski's light controller. Includes lamp holder and 12 volt globe colored amber. Pivot hole can be predrilled if required at no extra charge and would be drilled as per club plans which is .82" or 20mm from the end of the rod. These look that good it's a shame to paint them.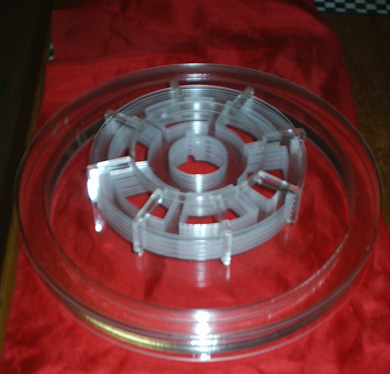 Full acrylic laser cut radar kit

Price: $285

It comes complete ready to assemble. Designed to fit the Tim K torso. Cut with Lightening holes to reduce weight. Pilot holes are pre drilled for location of ear sensors. Key way to suit Jerry C's bubble lifter. (Thanks to Jerry C for giving permission to include this.)
Comes complete with 4 mounts and can be used with or without Andy's gear. As this is a kit it is adaptable to any lazy Susan.
Postage Cost: $48.00 US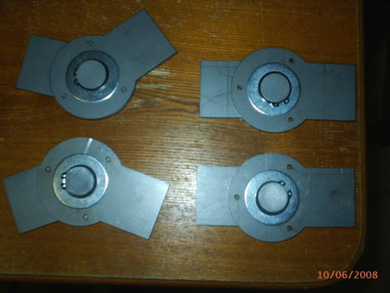 Knee Hinges

Price: $55

This a set of four knee hinges laser cut out of 2mm mild steel.
They can be used as a static or moving hinge.
These are complete with cast resin hub, steel washer and circlip.
Postage Cost: $20.00 US