Join the Club and make a new Friend!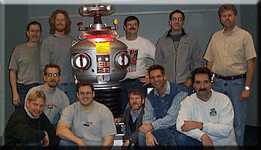 Thanks to everyone that has supported the club over the years!
Going forward, membership is FREE!



To join the club:
It is strongly suggested that you join our Facebook site titled "The B9 Robot Builders Club". It's a private Facebook site where people wanting to participate in viewing and posting will need to join the site with the help of our administrators. You will be able to find the link to send in your request to join at the Facebook site itself. Start by following the link bellow to our Facebook page.
Once you're approved you will be connected with several hundred other B9 Builders who have a wealth of experience and knowledge that are willing to share.
Joining the Facebook site will literally save you time and money!
There are a lot of amazingly talented people in this club who love to share their knowledge to help other builders. Once you're signed up you're welcome and encouraged to share your knowledge, ideas and suggestions also!

Here's the link: Facebook: The B9 Robot Builders Club. (Once there click the "+ Join Group" button, then answer honestly the two required questions.


Do you want to be a registered and recognized member? If you desire you can request to have a Member Number assigned after you have joined the Facebook B9 Builders Club. Once you've joined just click on the below email link and send us a request. We'll get back to you within a few days with your very own number! We'll also list you on our "Who we Are" and "Where We Are" pages. You can find these pages here:
Who We Are - Members sorted by Member ID
Member Locations - Sorted by State or Country


Include the following information in your request:
Your name
The closest date you can get to that you joined the Facebook B9 Robot Builders Club.
What city, state and country you live in
Please put the following words in the subject line of your email request: "Membership Number Request" Send your request for a Member Number to: dschulpius@gmail.com

We appreciate and thank you for your patience. We're real and busy people and not a B9 Robot. ;-) We will return your request within a day or so. If you don't hear back from us within a week please resend your request.