The Club Robot Blueprints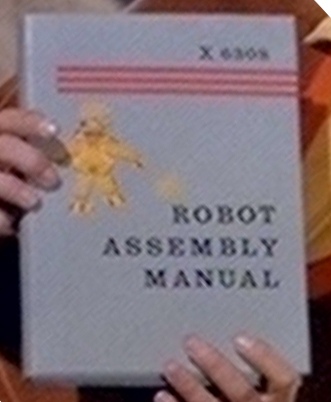 NOTE: These drawings attempt to capture the original Robot as actually constructed for the TV show and deviate from studio blueprints where needed. These drawings do not attempt to show internal / structural details. They are meant to be used as a standard reference to ensure scale between parts is correct. Club vendor parts may or may not be exactly the same as depicted here, be sure ask vendors for their exact part specs!
These blueprints are coming online as fast as we can get them created and reviewed.
These drawings are copyright and for Club Member use only. Please do NOT redistribute or post these publicly, to do so is a violation of copyright laws.
These file are available in "Drawing Web Format (dwf) and require software to view and print them.
You can download and install a free viewer by clicking here:

You will need to install this before you can view the blueprints. This software will allow you zoom in on details, print out hardcopies, etc.!
There is also a PDF format available. You'd need to download and install the free Adobe Acrobat Reader to view the files in pdf format.
---
Click on the links below to download the actual drawing files.
(You may need to right click and choose "save as" to save these files on your system.)
Bubble Section - Assembly
Bubble (jpg format)
Bottom Plate (jpg format)
Crown
Brain Top View (dwf format) (pdf format) (jpg format) (Research Photo for top shape & centering info)
Brain Front Band (dwf format) (pdf format) (jpg format)
Brain Side Band (dwf format) (pdf format) (jpg format)
Brain Cup (pdf format)
Finger Light Rods (pdf format)
Light Rod Dimensions with Brain Cup(pdf format)
Neck Bracket
Bubble Lifter Boot
Radar & Collar Section - Assembly
Ear Posts & Sensors (pdf format)
V1 Radar - for "Old" club standard V2 Collar (pdf format)
V2 Radar - for "New" club standard V2 Collar (dwg format) (pdf format)
V1 Collar - for "Old" club standard torsos... TimK, Dewey, etc. (pdf format) (dxf format)
V2 Collar - for "New" club standard V2 Torso (pdf format)
V1 Collar Rib Profile (pdf format) (dxf format)
V2 Collar Rib Profile (pdf format) (dxf format)
Collar Neck Shroud - Original (dwf format) (pdf format) (jpg format)
V2 Collar Neck Shroud (pdf format) (dxf format)

Torso Section - Assembly
Torso - Temporary JPG of basic dimensions
Torso - Neon Opening Template (tiff format)
Torso Hooks (pdf format)
Neon & Backplate
Chest Area Buttons & Lights Drilling Template (pdf format)
Arm Hole Cutting Template (pdf format)
Programming Bay
Program Bay Panel Layout - Hero Version (pdf format)
Program Bay Panel Layout - Corrected Version (pdf format)
Program Panel Drilling Template - Hero Version (pdf format)
Program Panel Drilling Template- Corrected Version (pdf format)
Vents
Power Pack Information
Power Pack Components and Specifications - by Gregorio Padin (Click to Download .docx file)
Power Pack Schematics - by David McGee

Arms - Assembly
Wrists
Wrist Band & Latches (JPG format)
Claws
Rubber Arms (dwf format) (pdf format) (jpg format)
Leg Section - Assembly
Donut (dwf format) (pdf format)
Waist Plate (pdf format)
Legs (dwf format) (pdf format)
Knee Section - Assembly (dwf format)
Knee Plate (dwf format) (pdf format)
Knee Bellows (dwf format) (pdf format)
Hinge (dwf format) (pdf format)
Tread Section
Left Foot Assembly (dwf format)
Left Foot (dwf format) (pdf format)
Right Foot Assembly (dwf format)
Right Foot (dwf format) (pdf format)
Side Panel (dwf format) (pdf format)
Tread Belts:
2" wide (dwf format) (pdf format)
1" wide (dwf format) (pdf format)
Wheels:
3 x 1 (dwf format) (pdf format)
3 x 2 (dwf format) (pdf format)
4 x 1 (dwf format) (pdf format)
4 x 2 (dwf format) (pdf format)