Speaker Mounting

By Craig Reinbrecht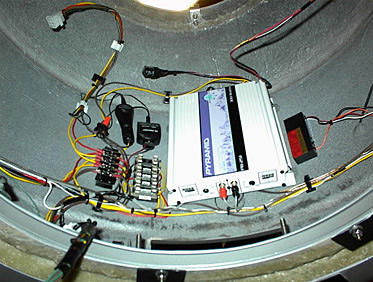 I used a Pyramid PB-251 car stereo Amplifier for my sound system. One channel for the sound effects and one channel for the robot's voice. A CD player or laptop computer are the audio source. It is mounted to the back inside of my torso with four flat-head machine screws attached with epoxy putty.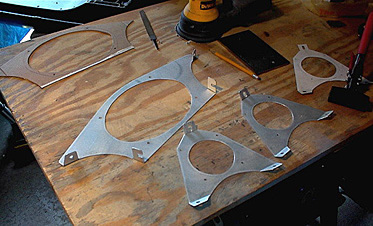 Because my robot is a costume, I really thought long and hard about what type of speakers to use and where to mount them. My solution required custom making some special brackets out of 1/16"
aluminum.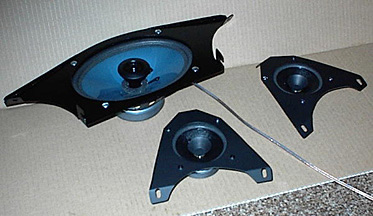 The 6x9 speaker is for the robot's voice, and the two 4" speakers from Radio Shack are for the robot's background clicking sound effects.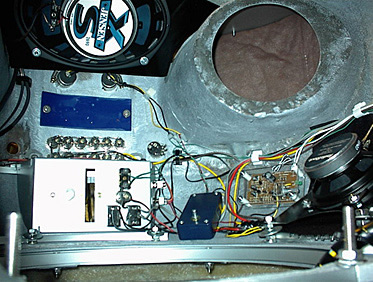 The 4" speakers are mounted to the two side vent openings and the 6x9 voice speaker is mounted behind the neon using screws attached to the arm sockets.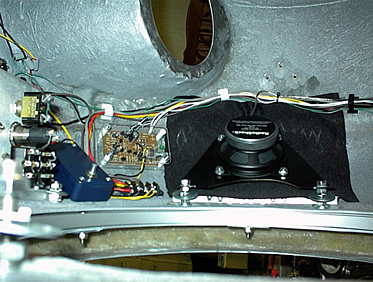 By mounting the lazy susan with the side that has 8 screws attached to the torso (the other side has 6 screws), I was able to straddle each vent opening with two bolts. This paid many dividends and provided the lower mounting bolts for the two side speaker brackets. One more screw epoxy puttied above the vent openings provides the third point of attachment. The vents, aluminum mesh, and black cloth, are simply sandwiched in between the bracket and the torso, very securely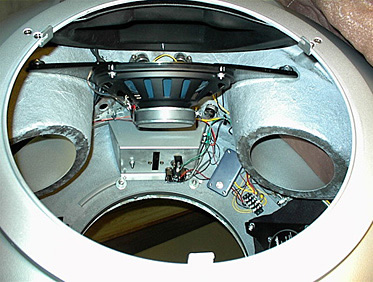 "At exactly launch plus eight hours..." It sounds awesome!
Here are templates for the brackets.