Craig Reinbrecht's B9 Robot Progress

Ellie and Craig with his robot in Cleveland, April 2001: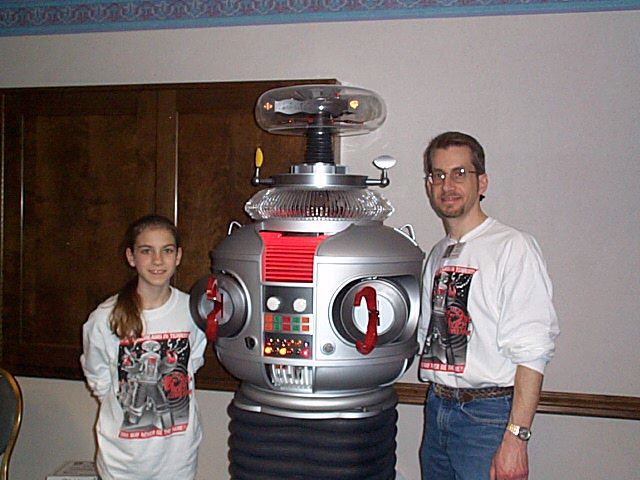 Setting up Craig's Robot
Craig with his Robot
Ellie "suiting up"
Craig's Robot with Ellie inside
More Finishing shots, March 2001:
Craig's Collar rib jig
Lower Collar Frame
Building the Collar
The Finished Collar
Painting the treadsections
Painting the Torso
Detail of texture on Torso Hooks
The paint shop

Treadsection and side panels:
Side Panels Photo #1
Side Panels Photo #2
Side Panels Photo #3
Treadsection Photo #1
Treadsection Photo #2
Treadsection Photo #3
Treadsection Photo #4
Treadsection Photo #5
Treadsection Photo #6

Craig's Brain:
Brain Photo #1
Brain Photo #2
Brain Photo #3
Brain Photo #4
Brain Photo #5
Craig's Claws:
Claw Photo #1
Claw Photo #2
Craig's Programming Bay:
Programming Bay Photo #1
Programming Bay Photo #2
Programming Bay Photo #3
Programming Bay Photo #4
Programming Bay Photo #5

Here's some shots of Craig working on his Treadsection in Scott's garage:
Back to the Grind!
If I only had a knee...
Warning! Warning!
Danger Will Robinson!
Craig's attention to detail is amazing. Just look at the microphone and sensors he has fabricated!
Microphone
Sensors
Torso in progress #1
Torso in progress #2
Torso in progress #3
Torso in progress #4
Torso in progress #5
Craig's daughter Ellie tries on the torso for size